<![if !vml]>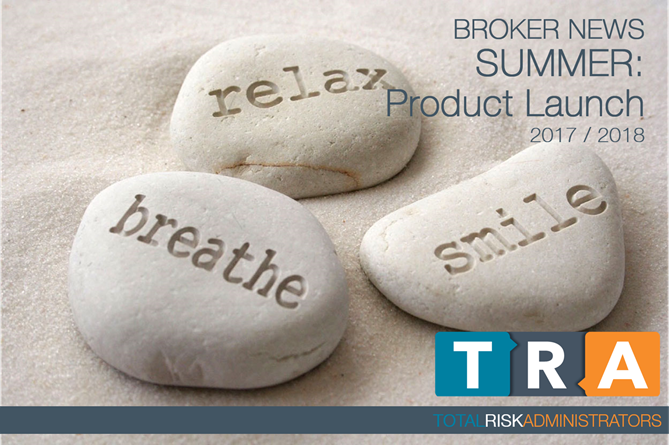 <![endif]>
Dear Intermediary
Yes, it's that time of year when we attend countless healthcare launches and have to endure the good, the bad and the ugly!! Good Networking!! Bad conference venue food!! Ugly medical inflation!! But it's also a time where we know that soon we can put up our feet and Breathe, Relax and Smile after a hard year's work.
It's been a ground-breaking year for TRA and we want to share some of the highlights with you as well as where we're going for 2018. Click HERE to see a summary of our 2018 changes. Detailed product information will be distributed in due course.
CHANGE OF INSURER
We embarked on a very successful migration of our short-term book from Centriq to Auto & General. This was not without its challenges but thanks to our amazing team and the support of our many contracted intermediaries we were able to pull it off. Again, many thanks to all involved.
AGREEMENTS AND CONTRACTING
In terms of the above migration there was a process to sign new compliant agreements with Auto & General, which we have facilitated. Whilst we have received a significant number of returned and signed agreements, some remain outstanding. Please return these agreements to us asap if you have not already done so.
MYPOLICYDOCS
One of the outstanding features of the migration was the creation of a temporary web portal called MYPOLICYDOCS which allowed secure access to vital policy information for policyholders and intermediaries alike. This was extremely well received and we are considering this as a permanent feature with some enhanced features. SO, WATCH THIS SPACE!! for more info coming shortly.
GAP COVER – BENEFIT CHANGES (1 JAN 2018)
Gap Cover limit - The short-term health insurance space was marked by a significantly increased claims utilisation pattern. It is apparent that many medical service providers are now aware of "gap cover" and are actually billing for that. In line with that we are not increasing but maintaining a 700% gap cover limit across our PLUS options for next year. The regulatory R150 000 per insured person per annum remains until the authorities advise otherwise.
Merger of Vital Cover into Vital Cover Plus – Our number one query this year was from Vital Cover policyholders wanting to know why their PMB claims were not covered. Considering that PMB's are a significant issue right now with medical aids covering (and sometimes not covering) these in various ways, it makes sense to be on an option that covers PMB's. After careful consideration and based on the significant increase in benefits we are extremely happy to announce that all Vital Cover and Vital Cover Plus policyholders will be housed in a new Vital Cover Plus product from 1 January 2018. And all for a value premium of R165 per policy per month.
Basic Cover 200 – A stepping stone into gap cover!! Market forces have indicated a need for an entry level gap cover product for those that have never had such cover and want to spread at least a portion of the risk associated with hospitalisation service provider costs. The product must also be affordable. INTRODUCING our Basic Cover 200 which provides 200% Gap cover, PMB's, Oncology Gap, Casualty cover and Policy Extender:  All for a premium of R99 per single member per month. VALUE INDEED!!
ER24 Assist – These days added value is a must and to make life a bit sweeter and easier for our policyholders we have partnered with ER24 Assist to bring you TRA Assist, an assistance and rewards program, at no extra costs. Powered by ER24 Assist, we will also be launching our own TRA mobile app which will facilitate the benefits on offer. This program provides the following:
<![if !supportLists]>· <![endif]>Home Drive – A designated driver service for when you shouldn't be driving yourself after that night out!! 
<![if !supportLists]>· <![endif]>Panic Button – Linked to the mobile app, the service provides access to a crisis manager who will guide you through any emergency. When you have a crisis, they take charge!!
<![if !supportLists]>· <![endif]>Lifestyle and Rewards benefit – Access to the ER24 Assist voucher base for 3 product categories: 2 for 1, Value Add and Discounts  
<![if !supportLists]>· <![endif]>Nurse Line – Unlimited access to qualified nurses 24 hours a day for emergency medical advice, assessment of symptoms, explanation of medical terms, etc.
Despite significantly increased claims patterns we are still pleased to announce the following increase in monthly premiums, effective 1 January 2018:
ENHANCED RANGE
Option

Premium per policy per month (Individuals and / or families)

Premium per individual per month

Premium per family per month

Premium per policy per month: Over 65's (Individuals and / or families)

<![if !vml]><![endif]>

BASIC COVER 200

N/A

R99

R150

R300

VITAL COVER PLUS - including historical Vital Cover policyholders

R165

N/A

N/A

R250

SUPER COVER PLUS

R210

N/A

N/A

R315

ABSOLUTE COVER PLUS

R345

N/A

N/A

R415
STANDARD RANGE (Closed to new business, No PMB cover, No enhancements)
| | | | | |
| --- | --- | --- | --- | --- |
| Option | Premium per policy per month (Individuals and / or families) | Premium per individual per month | Premium per family per month | Premium per policy per month: Over 65's (Individuals and / or families) |
| SUPER COVER | R185 | N/A | N/A | |
| ABSOLUTE COVER | N/A | R245 | R305 | N/A |
FEMMER COVER
There are no significant changes to our Femme Cover range. Premiums are adjusted, effective 1 January 2018, as follows:
| | | |
| --- | --- | --- |
| Option | Benefit | Premium per policy per month (One life per policy) |
| FEMME 50 | R50 000 | R90 |
| FEMME 100 | R100 000 | R163 |
Following policyholder feedback, we must draw your attention to one of the policy document conditions that stipulates a policy end of life date equal to the end of the month that the insured turns 65, i.e. the policy terminates after the insured turns 65. Please ensure that this is explained to your clients.
Significantly, we have also consolidated our funeral cover book with Guardrisk Life Limited and will be facilitating the signing of new agreements with our network of brokers that market these products. Look out for mails in this regard!!
Our standard funeral product has been adjusted, as follows:
| | | | | | | |
| --- | --- | --- | --- | --- | --- | --- |
| | PLAN A | PLAN B | PLAN C | PLAN D | PLAN E | PLAN F |
| Level of cover for main insured | R5 000 | R10 000 | R15 000 | R20 000 | R25 000 | R30 000 |
| Premium per policy per month | R21 | R42 | R63 | R84 | R105 | R126 |
This product is closed to new business
We welcome the opportunity to quote on any corporate business and we are able to offer tailored and discounted products based on size and demographics. Please contact us directly to discuss these opportunities.
We conclude with a call to please make use of our social media channels and more importantly, to encourage your clients to do the same. Please feel free to distribute the links below to your client base.
REMEMBER: DON'T STRESS! The Gap is Covered!
Best regards
WARREN GATES
HEAD: MARKETING AND DISTRIBUTION
<![if !vml]>

<![endif]>